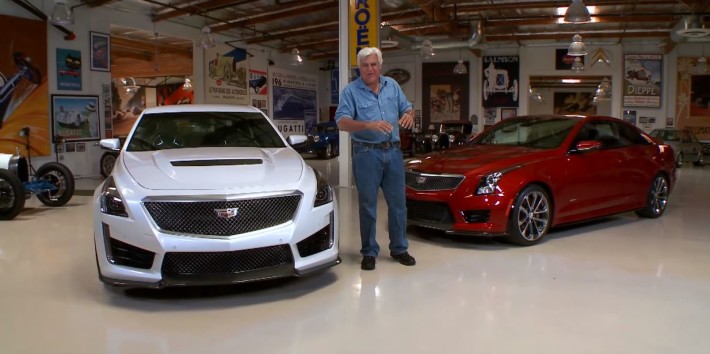 After scrutinizing some classic custom cars, Jay Leno switched to the 2016 Cadillac CTS-V. Besides content, Leno puts the Cadillac CTS-V up on a rack to examine features of the car.
He seems somewhat impressed with the V CTS 640-horsepower sedan, which cannot easily get burned-out. He is happy with this third generation V-Series that combines sophisticated technology and functional design. The car is a confident track performer that refines daily driving and is the summit of Cadillac's production design.
Cadillac CTS-V: Engine
The CTS-V commands the road with its 8-speed automatic transmission, supercharged 6.2L V8 engine, and structural suspension components that allow crucial cornering and steering. With massive six pistons and four rear brakes, the CTS-V has a settled stopping power that allows its users to harness powerful engine power for everyday truck performance. The car has special tuned and sized rotors that support Ferritic Nitro-Carburizing lessening corrosion and maintaining permanent braking display for sustained time periods.
With track testing and tuning, the CTS-V affords 8-speed automatic transmission that presents a pure performance and a table, and responsive gear shifting. The car provides eight seamlessly automatic gears with Performance Algorithm Shifting that can also be switched to manual by hitting magnesium paddle shifters, positioned on the vehicle steering wheel.
The CTS-V wields constant power with its impressive 630 lb-ft and 640-hp torque that accelerates the car from zero to sixty meters in 3.7 seconds. The CTS_V also has an ability to reach top speeds of 200 mph on racetracks. The CTS-V operates seamlessly through Continuous Variable Valve Technology, Active Fuel Management, and Direct Injection to offer everyday-driving.
Cadillac CTS-V: Design
The attractive CTS-V appearances come from the cars deliberate lines, edges, and curves that are functional designs that support enhanced cooling, lift reduction, and advanced aerodynamic performance. The cars shape, wide body, low height, and athletic stance are both intelligent and aggressive features that make the CTS-V a fifth-generation luxury car fit to be supplementary to Jay Leno's compilation.
If you are ready to check out the Cadillac CTS-V, contact the team at Moore Cadillac to schedule the test drive of a lifetime!