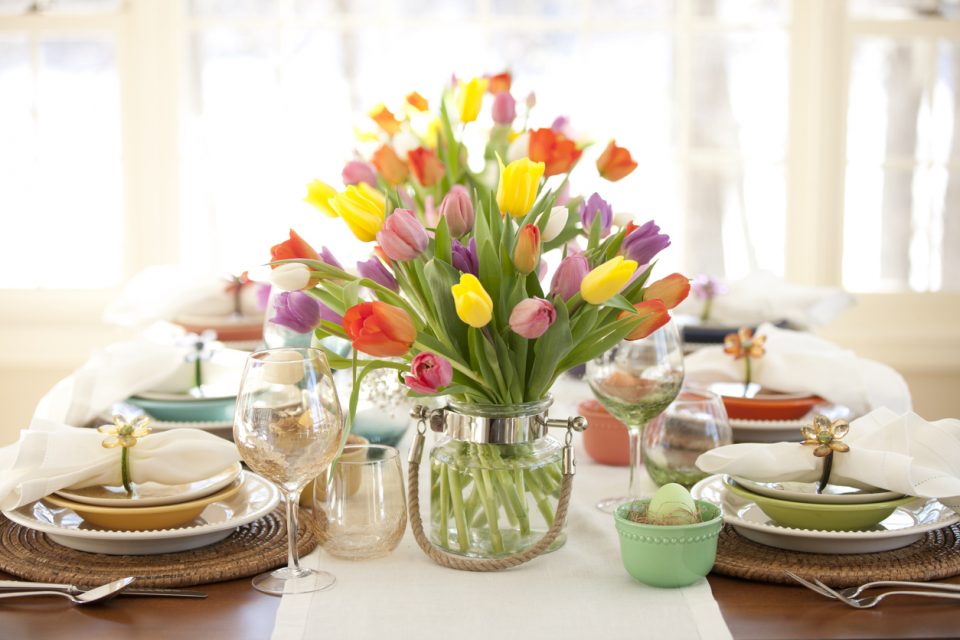 Mother's Day is right around the corner. Have you made plans for your holiday celebration? If you're still in the planning phase, consider whipping up a delicious meal for the mothers in your life with these delicious lunch recipes. Let's get started!
Caprese Garlic Bread
You'll need: 1 loaf of ciabatta bread (sliced in half), 2 large tomatoes (sliced) 1/2 cup of unsalted butter, 2 cloves of garlic (minced), 1 1/2 cups of shredded mozzarella, 1/4 cup of balsamic vinegar, 2 tablespoons of finely sliced basil, 1 tablespoon of extra-virgin olive oil, 1 tablespoon of honey, kosher salt and pepper
Step 1: Start by preheating your oven to 350 degrees. Then, place the bread halves onto a large baking sheet. Set aside.
Step 2: Take a medium-sized bowl and mash together the softened butter and garlic. Afterward, season the butter with kosher salt and pepper.
Step 3: Spread the butter mixture onto each of the bread halves. Place them onto the center rack of your heated oven and bake until the bread is toasted. This should take about 10 – 15 minutes. (Be sure to keep an eye on the bread to ensure that it bakes to your liking.)
Step 4: Next, top the toasted bread with mozzarella. Sprinkle the tomato slices on top and bake the bread until the cheese has melted. This should take about 5-10 additional minutes.
Step 5: While your bread is baking, start preparing the balsamic glaze. Take a small saucepan and mix together the honey and balsamic vinegar. Then, allow this mixture to simmer until it has reduced by half. (Remember to stir occasionally for about 8-10 minutes.) After 10 minutes, remove the mixture from the heat and let it cool.
Step 6: Drizzle olive oil and the balsamic glaze over the garlic bread. Then, garnish it with basil.
Step 7: Cut the bread into smaller slices and serve warm.
Cheesy Lemon Angel Hair
You'll need: 3 lemons (thinly sliced and seeded), 1 pound of angel hair pasta, 3 garlic cloves (minced), 1 tablespoon of extra-virgin olive oil, 2 tablespoon of unsalted butter, 1 1/2 cups of grated Parmesan, 1 1/2 cup of grated Pecorino Romano, 1 1/2 cup of grated Gruyere, 3/4 cup of chicken broth, 1/4 cup of chopped fresh parsley (plus more for garnish), 2 tablespoon of flour, freshly ground black pepper and kosher salt
Step 1: First, bring a large pot of water to a boil and generously sprinkle salt into the water. Once the water is boiling, pour the pasta into the pot and cook until al dente. Drain when done.
Step 2: Next, heat a large skillet over low temperature. Add 2 tablespoons butter and 2 tablespoons olive oil to the skillet. Once the butter starts to bubble, add the lemons and garlic to the skillet.
Step 3: Season the mixture with salt and pepper. Cook until the lemons have softened. This should take about 3 minutes.
Step 4: Next, whisk in the flour and cook for 1 minute. Add the chicken broth to the skillet and whisk until the mixture is smooth. Afterward, add the cheeses to the skillet, whisking constantly.
Step 5: Finally, add the cooked angel hair to the skillet and toss the pasta in the sauce along with the parsley. Serve immediately and garnish a sprinkle of parsley.
BLT Panzanella
You'll need:  12 oz. thick-cut bacon (cut into 1-inch pieces), 1 pound of ripe tomatoes (mixed varieties cut into bite-size pieces) 2 cups of ciabatta bread (torn into small pieces), 2 cloves garlic (minced),  5 oz. of arugula, 1 small red onion (thinly sliced), 3 tablespoons of balsamic vinegar, 1/2 cup of chopped fresh parsley, 1/4 cup of torn basil leaves, freshly ground black pepper and kosher salt
Step 1: Heat a large pan over medium temperature. Once heated, add the pieces of bacon in an even layer. Fry until the bacon is crisp. This should take about 5 minutes.
Step 2: Next, transfer bacon onto a paper towel-lined plate to soak up the excess grease. Set aside. Pour half the bacon fat from the pan into a bowl to reserve.
Step 3: Start preparing the croutons. Heat that same pan to medium temperature. Then, toss the bread in the bacon fat that remains in the pan and and season with kosher salt and pepper. Toast the bread for about 5 minutes. Once toasted, transfer the croutons to a bowl and set the bowl aside.
Step 4: Add the reserved bacon fat and minced garlic cloves to the pan and it to medium heat. Next, sauté the garlic for 1-2 minutes until it has softened. Remove it from the heat and stir the garlic with balsamic vinegar, pepper, and salt.
Step 5: Next, add in the chopped tomatoes, arugula, parsley, red onions, and croutons and toss the ingredients with the dressing. Finish by sprinkling the basil and bacon on top. Serve immediately and enjoy.
Now that you have these flavorful recipes, you are almost ready to enjoy a delicious meal for Mother's Day. All that's left is to pick up the ingredients that you'll need.
The staff here at Moore Cadillac wishes you a Happy Mother's Day. If you are on the hunt for a high-quality ride, we hope that you choose us to provide you with a brand new vehicle! We look forward to assisting you with selecting the perfect car, truck, or SUV.