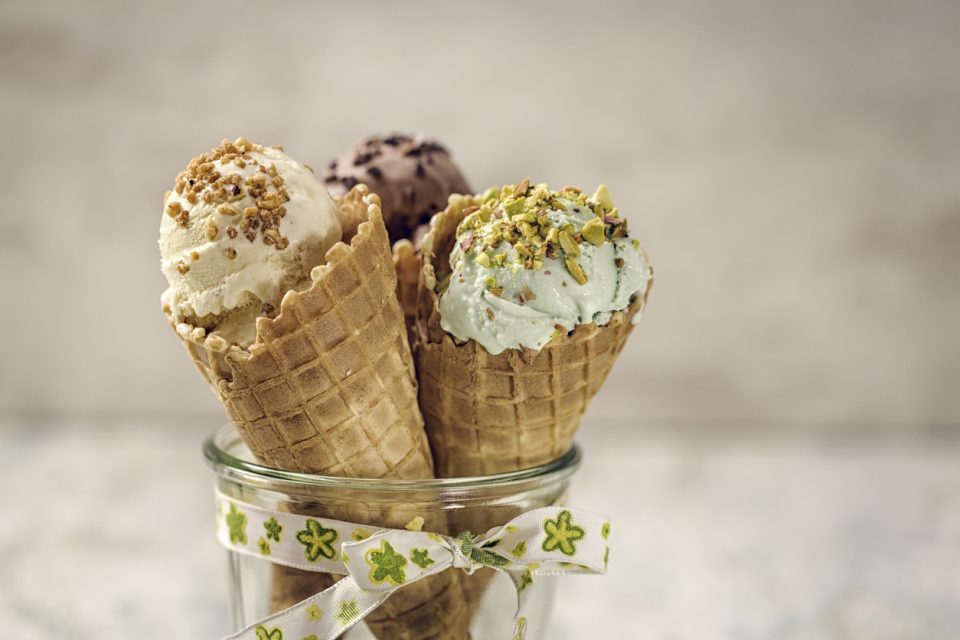 Are you in the mood for a delicious scoop of ice cream? Head over to an ice cream shop nearby and grab a sweet treat that's perfect for beating the summer heat.
Milwaukee Frozen Custard
Make your pick from the plethora of tasty frozen treat options offered at Milwaukee Frozen Custard! This Chantilly, VA hot spot serves up cold desserts that keep visitors from near and far coming back for more. Whether you are craving something sweet and fruity or rich and creamy, Milwaukee Frozen Custard has got you covered.
Some of the tasty frozen custard flavors available include Almond Fudge Swirl, Almond Toffee Crunch, Banana Strawberry Chip, Butter Pecan, Cake Batter, Caramel Apple Pie, Coffee & Cookies, Mango Creamsicle, Raspberry Chocolate Chip, Rocky Road, Strawberry Cheesecake, Thin Mint, Turtle and much more!
Would you prefer a refreshing scoop of Italian Ice? Choose from the delicious seasonal options available. This season, you can indulge in sweet flavors like Mango, Lemon, Orange and Cherry! Milwaukee Frozen Custard is the place to go when you're looking to beat the heat this summer.
Tutti Frutti
Flavorful froyo is on the menu at Tutti Frutti! Whether you're craving something creamy, sorbet, tart, or a soy option, this ice cream shop has got the flavors that you need. Check out the froyo flavors below and choose the option that best appeals to your pallet.
Cream: Birthday Cake, NSA Green Tea Latte, Vanilla Green Tea Latte, Frosted Flakes, Gingerbread, Candy Cane, Root Beer Float, Cotton Candy, Peaches & Cream, Banana Cream Pie, Apple Pie a la Mode, Strawberry Cheesecake, Royal Red Velvet, Chocolate Covered Strawberries, Carrot Cake, Creamy Green Apple, Honey Dew, Banana, Maple and more.
Sorbet: Pomegranate, Strawberry Lemonade, Orange Pineapple, Mango, Peach, Pineapple, Grape, Blueberry, Watermelon, Lemon, Lemonade Iced Tea, Cherry Cola, Gummy Bear, Spiced Autumn Punch and more.
Tart: Guava, Mango Lychee, Pina Colada, Key Lime Pie, Pink Grapefruit, Kiwi, Pineapple, Pink Lemonade, Passion Fruit, Strawberry Banana, Acai Berry, Grape, Grape Apple, Honey Greek Yogurt, Chocolate Raspberry, Cranberry Eggnog and much more.
Soy: Cookies & Cream, Spiced Cake, Banana Milk, Strawberry, Melon, Red Bean, Cocoa, Peanut Butter Banana Sandwich, Almond, Candy Cane Cookies & Cream, Latte, Chai Tea, and more.
Woody's Ice Cream
Take the short drive to Fairfax, VA and arrive at Woody's Ice Cream, where the good options just keep getting better! Order a delicious milk shake, sundae, soft serve ice cream cone, or hand-dipped ice cream cone. Plus, there are even specialty dessert items available to you. Take a look at what's on the menu at Woody's and make your pick, today!
Some of the tasty ice cream flavors offered at this ice cream shop include the following:
Vanilla Bean, Strawberry, Coconut Chocolate Crunch, Black Raspberry Chocolate Chip, Banana Cream Pie, Chocolate Chip Cookie Dough, Mocha Fudge Brownie, Mint Chocolate Chip, Caramel Praline, Salted Caramel, Rocky Road, S'mores, Cherry Chocolate Chip, Mango Sorbet, Raspberry Sorbet and much more.
You can also chow down on one of the delicious specialty dessert. The options include Strawberry Shortcake, Funnel Cake Sundae, S'more Sundae, Banana Split, and Root Beer Float.
Are you in need of a high-quality car, truck, or SUV to get you to the ice cream shop? Look no further. Moore Cadillac in Chantilly, VA has got you covered. Our professionals will gladly go the extra mile to get you into the vehicle of your dreams! We'll access your needs and find the perfect fit for your lifestyle in no time. We look forward to seeing you soon.