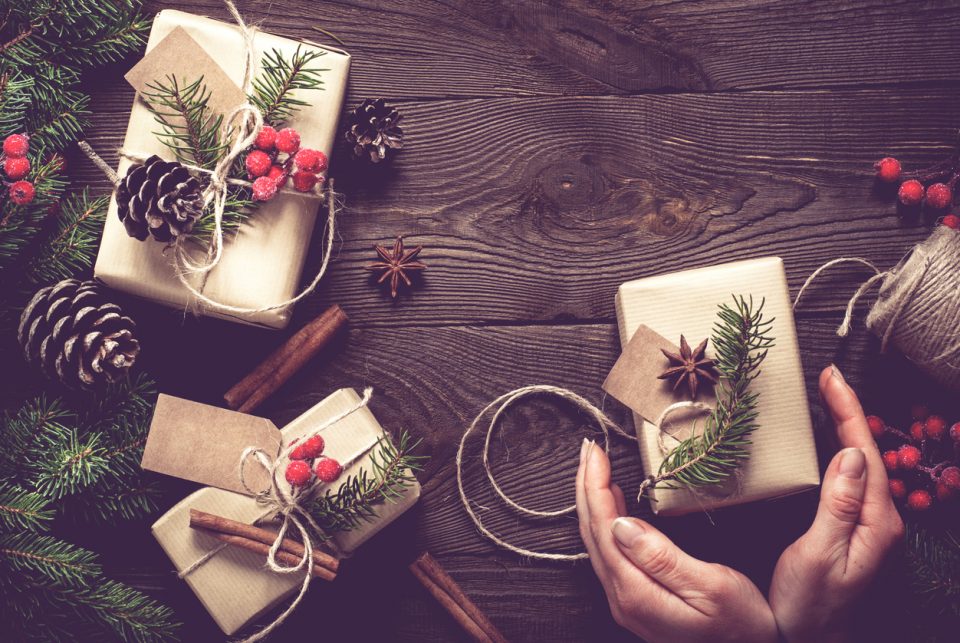 Wrapping Christmas gifts can definitely be a hassle. The cost for wrapping paper and other necessary supplies also adds up pretty quickly. So, how do you get through this part of the holiday season? We've got the perfect solution. Take a look at these gift wrapping hacks and make this year's Christmas preparation a breeze!
1.) Oddly Shaped Presents
Do you have a present to wrap, but it's not exactly the idea shape for covering with wrapping paper? No worries. There's a hack for that! Take some tissue paper and create a sack around the gift. Then, tie the top portion together with some ribbon. Yep – tackling this task is just that simple!
2.) DIY Wrapping Paper
What can be more inconvenient than running out of wrapping paper when you're in the middle of wrapping your presents? Luckily, we know of a couple quick hacks that will keep you from having to make another trip to the store.
Potato Chip Bag
Make a stunning gift inexpensively by using a potato chip bag. Just start by emptying out the chip contents into a ziplock bag. Then, cut the bag down one side seam and the bottom seam, revealing a flat shiny sheet. Next, use soap to clean cleanse the shiny interior. Lay the plastic out to dry, and proceed with wrapping as normal.
Paper Grocery Bags
Recycle your grocery bags by using them as covers for your gifts. Simply cut the bags down the seam so that they appear as a flat sheet. Then, wrap as usual. You can also nix the cutting and use the paper bags as gift bags instead. Just add tissue paper and a bow, and you're good to go!
3.) DIY Ribbons
A ribbon is the perfect touch to any gift. Who says you have to spend extra money on them, though? Save this season with these quick and easy ribbon hacks.
Magazine Paper
You can make a beautiful ribbon with a magazine sheet! Just start by choosing a sheet of paper that has the color that you're looking for. The design layout on that page will make a nice print with an added unique touch. What a way to switch things up this year! Check out a tutorial of how to do this, here.
Recycled Ribbon
You can even add ribbons to your gift without spending money! Do you have ribbons that you received from past gifts? Use this simple hack to make them look good as new.
First, remove the lamp shade from a lamp in your home. Then, plug in the lamp and turn in on. The bulb will gradually start to heat. Next, rub the used ribbon across the bulb. The wrinkles will begin to disappear, causing the ribbon to straighten. Now, it's as good as new!
4.) Double-Stick Tape
Double-stick tape is always a great choice when it comes to gift wrapping. Not only does it save time, but your presents will appear nice and sleek. Watch as the sheets of wrapping paper lye down smoothly on top of one another. It'll appear as if a professional has wrapped your gifts this year, so be sure to have your business cards ready!
5.) Switch Things Up
Take your gift wrapping to another level. Instead of using the typical wrapping paper, consider using fabric to wrap your gifts instead! You can utilize old scraps, if you happen to have sum around the house. Or, you can take clothing items and scarves that you no longer wear and use them to cover your gifts with. This hack is both efficient and creative. The recipients will surely be pleased!
Now that you have all of these great wrapping hacks, all you need now are the gifts to go inside. Stop by and see us here at Moore Cadillac in Chantilly, VA for the perfect vehicle to take you along your shopping trip. Who knows – you might even find a quality car, truck, or SUV that you'd like to gift this season!