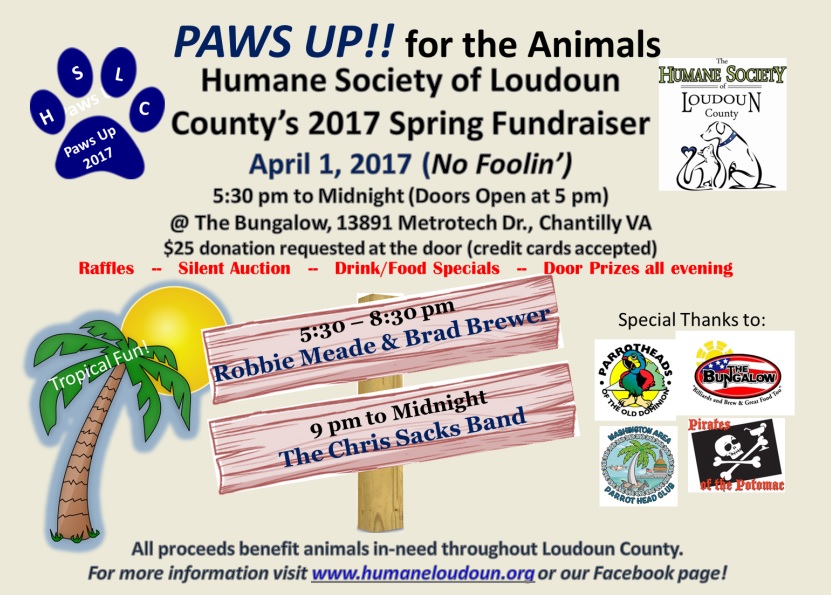 Do you want to help shelter animals in need but cannot foster or adopt one? Here is your chance! Animal-lovers in and around Chantilly, Virginia, are welcome to come out to support the Humane Society of Loudoun County at the Paws Up!! for the Animals spring fundraiser. All proceeds from the event will go to helping animals in need throughout Loudoun County.
Paws Up!! for the Animals: Entertainment
The event will include live music from two fantastic tropical rock acts, The Chris Sacks Band, Robbie Meade, and Brad Brewer. Door prizes will be given away, and there will also be chances to win prizes from a raffle and silent auction items, all of which benefit the homeless animals of Loudoun County. The Humane Society will also be serving food and drinks throughout the event in their private, non-smoking room.
Paws Up!! for the Animals: Event Details
The Paws Up for the Animals event will be held on Sunday, April 1, 2017, at The Bungalow. The event starts at 5:30 PM and will last until midnight. Be sure to get there on time so that you can catch Robbie Meade and Brad Brewer as they take the stage until 8:30 PM. Also, make sure you stay long enough to watch The Chris Sacks Band rock it out on stage from 9:00 PM until midnight. The Humane Society does ask that you give a $25 donation at the door. Payment by credit card is accepted.
Paws Up!! for the Animals: Community Support
Many groups support this fantastic, community-wide event for Chantilly. Sponsors for the event this year include Whole Pet Central, Valley Energy, Trinity Technology Group, Caring Hands Animal Hospital, Beach Front Radio, and Kyle Knight State Farm Insurance.
Remember, the needy and homeless animals of Chantilly depend on the support of loving and compassionate individuals. The dedicated staff and volunteers at The Humane Society of Loudoun County strive to help those animals, but depend on your support to help them meet their needs. Get into a vehicle from Moore Cadillac and go out to support this local event.