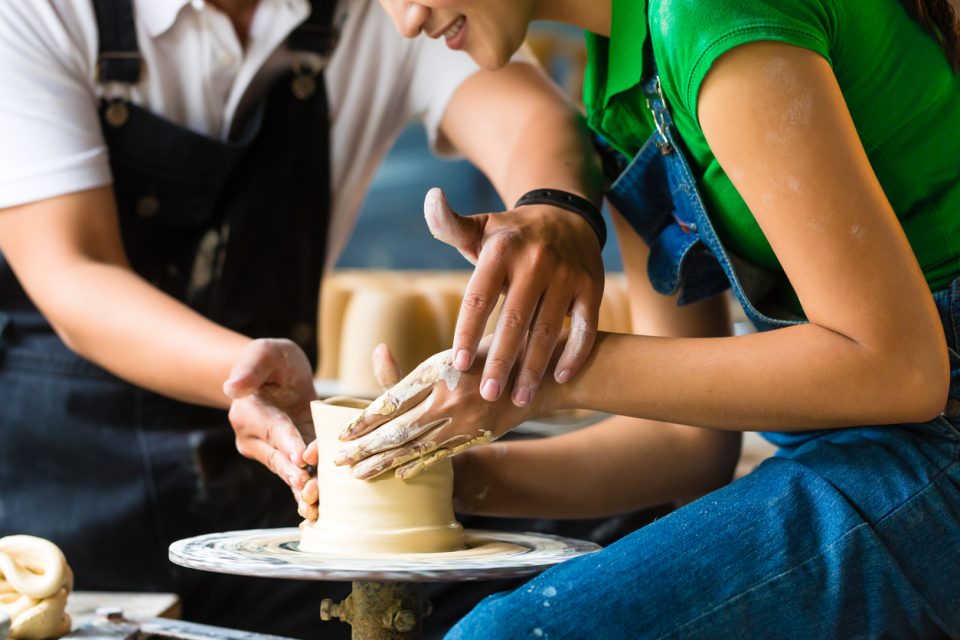 For Chantilly residents, Kiln and Company is just a short drive away in Vienna, and more than worth it for some fun time with the kiddos. You can even spend a full day, depending on your children's attention span, and make some pretty, crazy projects in the meantime. Your whole group will enjoy painting pottery or even making your own pieces.
Take as Long as You Want
There are a lot of great places to paint some pottery, but often you are rushed through your personal art. The first thing you'll love about Kiln and Company is that they don't care how long you take to work on your masterpiece. You pay based on the piece you choose to paint, not how long takes to complete your vision. This means that even if your child paints at a snail's pace or really cakes on the paint, you won't have to pay more. Heck — you can even take multiple trips to complete a larger item you are working on and only pay the one time!
Choose What You Want to Do
While there are a few other pottery painting places in the Chantilly area, few have the range of options that Kiln and Company does. In addition to actually painting a piece, you can go with your child and do a casting to preserve a moment. You can cast your child's feet, hands, or a combination. There's also the option to cast multiple hands together for a family outing that you truly won't forget. If you want to get a bit more creative with your pottery, you and your kids can also spend some time on the wheel and make your own unique items — follow the provided instructions or get creative!
Treat Your Kids to Custard After
A bonus of Kiln and Company is that they also have frozen custard for when your child needs a break in the middle of their painting. Or entice your child to sit through a casting session by dangling a frozen custard as a reward. The frozen custard is just in the corner of the store, but it's easy to access if you are already there and a great way to finish up the day.
Kiln and Company is Perfect for Parties or Making Presents
Take advantage of this fun pottery painting if you don't know what to do for your child's next birthday party or can't figure out what to get a loved one for their upcoming birthday. With Father's Day coming up June 18, you may even want to come here with your kids before the big day so they can paint a unique present for dad.
Moore Cadillac is happy to be part of the Chantilly, Virginia, community and will gladly help you find the right vehicle to take you and your children to Kiln and Company for a day of fun and creativity.